5 reasons why effectively managing stress is vital to your business
Without wishing to state the obvious, it's been a tough year for businesses. Whether it's losing customers, having to temporariliy close or placing staff on furlough, 2020 has presented us with challenges we'd probably never previously considered.
In amongst the chaos, it's very easy to forget about one of the most vital issues for all companies…the wellbeing of the people who work there. 

Managing staff wellbeing and identifying stress in the workplace at an early stage, can have dramatic benefits on your business. Here are some of the key reasons why:
Productivity
Let's face it, work can be draining. It can sometimes be boring and it can often be repetitive. It's easy for morale levels to drop and heads to go down. When that happens, productivity falls. Happier employees work harder, better and more productively. Giving employees a range of tools they can access and developing an open culture where mental health issues can be discussed, goes a long way to improving employees happiness and productivity levels.
It might be a cliche, but a happy workforce really is a more productive workforce.
Attendance
Stress and anxiety accounted for 12.8 million lost working days in the UK in 2018. The average case required over 4 weeks away from work. Unsurprisingly, this makes stress and anxiety the number one reason for workplace absence. But it is an issue that can be tackled effectively if addressed at an early stage. There is increasing evidence to suggest organisations that offer wellbeing and stress management programmes have lower absence rates.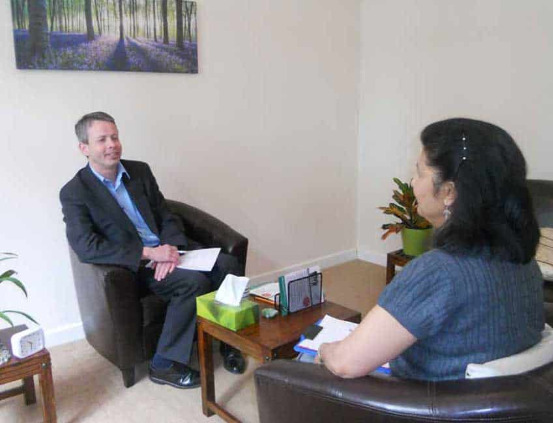 Plus there are the indirect causes of absence to consider as well. People suffering from stress or anxiety are less motivated to exercise or eat healthily. This makes them more susceptible to other illnesses and diseases.
Employee satisfaction
There is no doubt that placing an emphasis on employee health and wellbeing contributes heavily to an employee's overall engagement within the business. Having a programme to manage stress and anxiety is a good look for any business. It makes employees feel valued and an important part of the organisation. It makes you look more trustworthy and reputable.
Legal duty of care
Here's the boring bit. Employers have a legal duty of care to their employees. This means they should take all reasonable steps to ensure the health, safety and wellbeing of staff.
From a legal standpoint, this means abiding by relevant health and safety and employment law.
Legal duty of care is a bit trickier to pinpoint, but it covers issues such as:
Ensuring a safe working environment
Undertaking risk assessments and clearly defining job roles
Protecting staff from bullying, discrimination and harassment
Providing channels and consulting staff who have concerns.
Depending on the size and structure of your organisation this can be a complex issue, and that's why having a robust staff wellbeing programme is hugely beneficial.
Staff turnover
Now look back over points 1 to 4. Sounds like a good place to work, right? High productivity and attendance, plus a robust programme to deal with stress and anxiety,
Having all this in place helps make employees more loyal to the business and less likely to leave. This is a big benefit to any business as it cuts out the costs associated with staff leaving – work not getting done, skills gaps and various recruitment costs.
On the flip side, it makes your business a more appealing prospect when the time comes to recruit new members of staff.
Summary
However you look at it, effectively managing stress and anxiety is hugely beneficial to any business. All of the above factors will ultimately have a positive impact on a business' bottom line. 
The question is: How do you get your business into that position? And that's where AUM can help. We're offering bespoke 121 coaching sessions for managers. These high impact sessions will not only help you effectively manage stress in the workplace, but it will also help you create an open business culture and improve your own stress and anxiety levels.
Better yet, if you book between now and Christmas, you can take advantage of our HALF PRICE offer. Click HERE to find out more and book your place.