Aum Wellbeing Consultancy was founded by Hansa Pankhania, a recognised corporate wellbeing expert, speaker and author with over 20 years' experience. She draws on her Eastern heritage; integrating Eastern and Western influences to deliver effective solutions to organisations nationwide.
In 2005, she was inspired to set up AUM Wellbeing Consultancy, through a burning desire to help make a difference to society, by using her extensive skills in corporate wellbeing and mental health. Now the consultancy specialise in leading edge programmes in stress management, corporate resilience training, mental health courses and mindfulness based wellbeing packages offered through coaching, training and consultancy.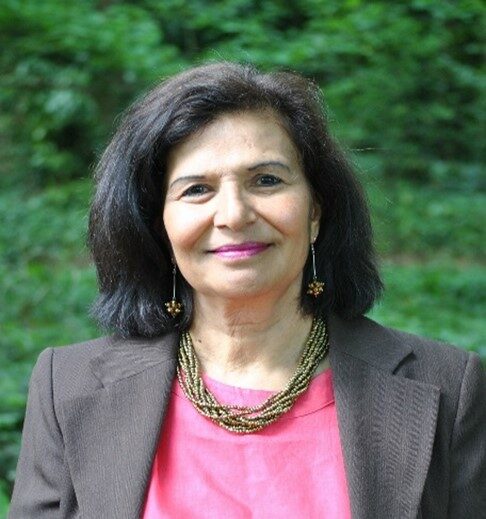 ''I hate to see organisations where people are not fulfilling their purpose and potential due to stress and mental health issues. Many organisations are unaware of the actual costs to their business and of the dramatic savings that can be made by effectively managing stress at work at an early stage. The interventions we pass on, not only reduce stress and increase productivity but also help to create a culture at work which fosters motivational behaviour, trust and loyalty.
My interest in stress management training and wellbeing started, when I was going through a stressful phase, so I went onto research Stress Management for my university degree. I began to help people through coaching and training to be stress free and successful. After working with over 250 companies, countless managers, employees and publishing 7 books on resilience, mindfulness and wellbeing, my passion for this work is still compelling.''
Hansa Pankhania is the 'Queen of Stress Prevention' She will draw out all the subtle personal and organisational issues and offer simple practical solutions to galvanise a robust wellbeing culture.
Some of the organisations we have helped:
A4e
Abbey
Alstom
Anchor
Aston University
Axa Health
BAE Systems
Barclays Bank
Birmingham City Council
Birmingham Children's Hospital
BDMA
BI Worldwide
BID Services
University of Birmingham
BOC
Boehringer Ingelheim
Care- first
Change Solution Focus
CIC
Community First
Comp Psych
Countryside Council for Wales
Dudley Asian Women's Network
Dru
Dudley Metropolitan Borough Council
Ealing Hospital NHS Trust
Headway
ICAS International
Infinis
Lichfield City Council 
Liverpool Hope University
National Westminiter Bank
Niace
Norfolk County Council
Oliver James Foods
Office for National Statistics
Optum
Peterborough City Council
Porvair
Post Office
PPC Worldwide
Prompt UK ltd
Queen Alexandra College
Rapha Ministries
Retail Trust
Royal National College for the Blind
Ronald McDonald House Charities
Saheliya
Sandwell Mental Health Trust
Sandwell and West Birmingham Hospitals Trust
Seetec
Sewa UK
South and City College
Speedibake
Stoke-on-Trent College
Suffolk County Council
Syngenta
West Midlands Ambulance Services
Validium
Wolverhampton Homes
University of Worcester
Vitality Agency
World Vision
YMCA
and many more…
Hansa has a national and international team of experts, who share her vision and passion to help people and organisations be stress proof and high performing.